Our New Incubation Model
With the support of Cuora Consulting, an Italian consultancy service, we improved our incubation model.
We are switching from "one solution fits all" to personalised approach and provide development program for entities based on their stages.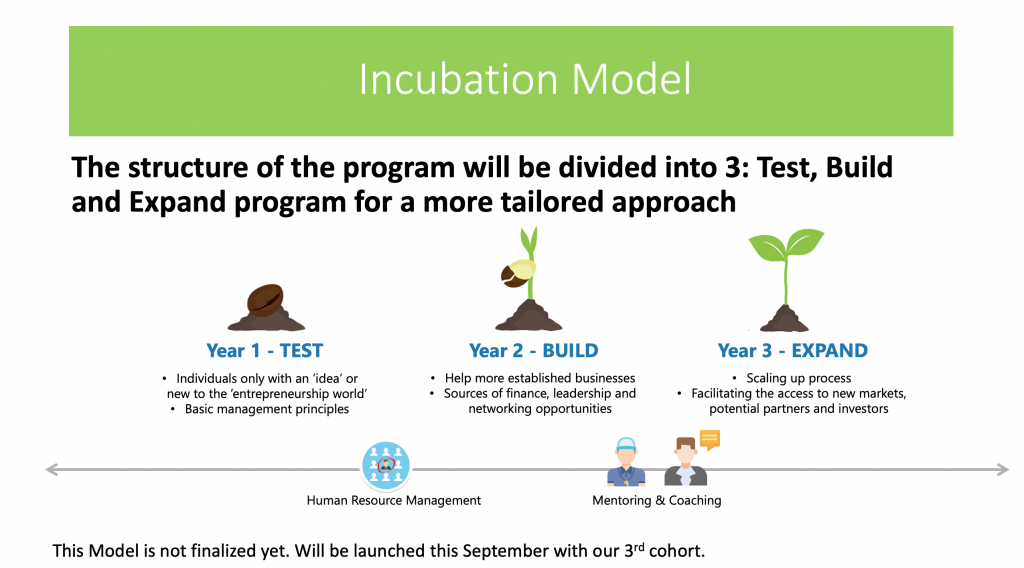 We aim to assess the level of knowledge of each applicants and allow them to fill in the knowledge gaps to be able to be on the same page with everyone else involved with theSPACE. Assessment happens through knowledge tests.
We understand many of our incoming AIESECpreneurs have some experiences in managing projects, or participated in numerous business courses and training programs. Although some of the CEOs have educational background non-related to entrepreneurship, which means the level of knowledge can greatly vary.
All of our programs start with an entrepreneur training course where we aim to bring our entities onto the same level in terms of business management knowledge.
Beyond knowledge and general information level relating to business studies, we also aim to assess the state of the incoming business. It can be an idea (pre-ideation or ideation phase) or an already existing operation (pre-launch, Launch/Early Stage, Early Growth, Growth).
Based on this business assessment, which happens through our selection process and probation period, we assign each entities into 3 of the above seen programs.
---
YEAR 1 – TEST PHASE
The main goal of this stage is to lead through ideation phase and assist the building of an MVP/Prototype (sellable service or product) to be pitched on a DEMO DAY.
We plan to improve our selection model to contain actions relating to pre-ideation so Test Phase participants can deep dive into building a strong value proposition for their solution for a specific problem.
This phase the key is to test the market with a new solution and achieve market fit.
CEOs will work on to
understand the problem and the target audience,
develop the right solution,
and straighten their skillset needed to engage different stakeholders with interacting, funding or buying the solution.
---
YEAR 2 – BUILD PHASE
Entities coming into this program often have been already selling their solutions on the market. This phase aims to assist the building of a strong organisation around the solution and enhance and improve the existing business model.
This phase the key is to enhance the operation and build foundations for sustainable growth as a business.
In this stage entities require to work on
further improving their solution (MVP/protype) or innovate (upgrade),
study the market and their entire environment more in depth (customers, value chain, competitors, financial/labor market and key partners) and evaluate their operations,
improve their business model,
enhance their systems and processes within their organisation,
create strategic plans based on data and research results,
and CEOs will develop the ability to lead a team, engage their entire organisation in the vision/mission and be able to structure operation (accounting, HR, marketing etc.) and strategise for minimum mid term (data based decision making).
---
YEAR 3 – EXPAND PHASE
In this phase the key is to accelerate and scale up operation to potentially enter to new market.
Entities in this program potentially have a steady operation, and sustainable monthly income from their solution they provide for sale to the market. They usually have a strong team for both back office and front office as well as financial reserves.
The aim of this phase is to map out expansion opportunities to either enter new geographic locations or to create new products/services to the existing market or to target a new audience on the existing market.
In this phase entities required to work on
understand expansion strategies,
analyse and map opportunities for scale up,
build long term strategies and calculate return on investment,
engage employees in scale up strategies and a dynamic growth,
prepare existing organisation and its structure for change,
CEOs will gain ability to manage change, to plan on long term, to evaluate investments, to understand and manage risk, to engage stakeholders and investors, to make high stake business decisions.
Our programs are still in development stage and we are planning to enrol them for pilot in September 2021.
We are currently working on the support materials and handbooks to support our internal stakeholders to be able to switch to this new model.