Testimonies about Mentoring and Coaching Program of theSPACE
Read CEO testimonies about 2 elements of theSPACE Incubation Program: personal mentoring and business coaching.
Mentoring with Listya
Listya as a volunteer signed up with theSPACE ngo in January 2021. Shortly after she received an email from us that one of the CEO in our incubation program would like to work with her as a mentor.
Cordula, Co-founder of Limpieza Services chosen Listya as personal mentor to enhance the personal growth she needs to become a better entrepreneur and leader and more equipped to manage her business.
Read what she says about the mentoring program which involves minimum 1 hour a month session with Listya.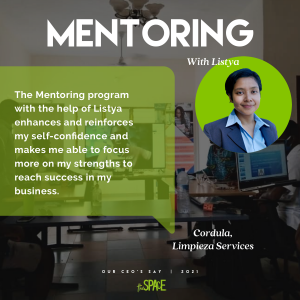 Only a few sessions with Listya and the impact is tangible on personal growth of Cordula.
Coaching with Chiara
Chiara was one of the first international experts to join theSPACE volunteer team back in February 2020. At that point the incubation program activities were only under planning phase so she was the first official business coach to start piloting this knowledge transfer activity.
Kevin the CEO of INOV Agence decided to work with Chiara in this pilot round and since then they have been working towards growing his business.
Click on impact report to learn more about INOV Agence's Success Story.
Read what Kevin says about the business coaching program of theSPACE ngo with Chiara which includes min 1 hours a month 1on1 sessions.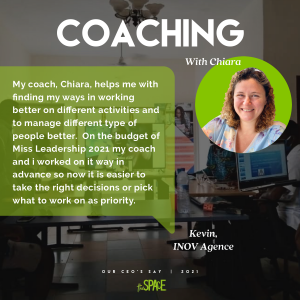 Chiara helps Kevin staying focused on growth and establish a strong foundation for his business by assisting transformation in the ways INOV Agence operates.